All of us have them. From seamstress, crafters, quilters, etc. we all do it. Now here are some ways to organize, get rid and use them.
From Pleasant Home
Does your scrap pile look like this?
Tips from the
Queen of DIY
From
JayBird Quilts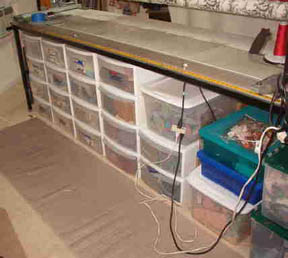 From
Quiltville
this is a very detailed way and very informative for quilters. Highly recommend.
This is a very creative way to store fabric scraps but I'm using my cassette holder to hold actual cassettes.
From Tony Staab.
This is how I store my fabric scraps. I put them by color in a shoe holder. I've weeded down this since I started making quilts for Xmas. I go through ever six or so months and take out stuff I haven't used. I mostly just keep cotton scraps but keep also brocade and some lace fabric for bags, bracelets and of course my patchwork skirts. More photos of my sewing room
here.
Right now it doesn't look like this as I have my son's entire closet in a basket as I am redoing and decluttering my whole house.
This is another project beside using all the fabric I have , I want to use all the scraps I have by the end of the year.
I know it sounds silly but I want to see how it would all look if I actually used everything I have.